As we know in Nepal international payment system is not available for everyone. For international payment, we should use payment wallets like Payoneer, Netspend, Netteller, PayPal, etc which is too hard to load money for PayPal/ Payoneer.
if you want to know which is the Best hosting of Nepal read the full blog.
I know many PayPal/Payoneer money sellers are on Facebook/website who provide PayPal/Payoneer money but they take service charge, profit, and somewhere tax also.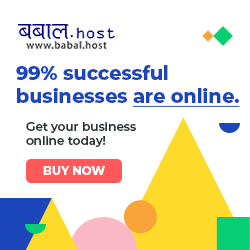 If we do all the things required for PayPal/Payoneer it cost more than usual when buying domain/hosting so to solve that problem I made this blog.
Also read: Typeshala for Windows 10
if you also facing this payment, domain, hosting problem read the full blog to choose the best website to buy the best hosting of Nepal and Domain at a cheap price
What is web hosting ?
Web hosting is a service that allows us to publish or posts a website onto the Internet. The person or organization that provides hosting is known as the hosting provider.
These hosting providers give you storage space in their computers to publish or store your website data and take monthly or yearly charges.
Those hosting computer servers have specific IP addresses and Domain should be pointed to that IP address and it can be accessible to red content in websites by typing the domain name.
What is Domain ?
A domain name is your website name. The address or name given to a website or a computer which uniquely identify the resources is called domain name. A domain name start with a corresponding IP address, whic id a number.
Each computer must have an IP address before it connects to the internet. Each IP packet must have an address of the destination host before it can be sent to another computer for eg: 192.168.2.90
An IP address contains four numbers. TCP/IP protocol uses 4 numbers to address a computer. Each computer must have a unique four-number address.
The numbers are always between 0 to 254 addresses are normally written as four number separated periods. TCIP/IP uses four computer bytes.
Top 5 Best hosting of nepal
prabhuhost is the best website to buy Hosting and Domain at a cheap price according to my experience my domain is also from prabhuhost.
Their customer support is also good and replies fast between 10AM to 5PM. nameserver pointed in some minute while adding DNS it takes some time but it is fine. Thatswhy, We can consider Prabhu Host as one of the best hosting of Nepal.
In 2021 they provide very good hosting. Here you can see the hosting plan of economic plan. You can also check other hosting also.
The Himalayan host is hosting and selling domains for many years. You will get the .com domain in 1100/Nrs and an unlimited hosting picture is below.
If we compare prabhuhost hosting and Himalayan hosting all the feature are same but the difference is SSL Prabhu host provide Comodo SSL Certificate worth 5000Rs whereas Himalayan host provide Cloud Flare SSL Certificates. So that we can also consider Himalayan Host as one of the best hosting of Nepal.
eHosting server also provides the same feature as others but for less budget hosting you can use their 700rs hosting which is worth in that price range like free SSL unlimited email, etc.
customer support is also good. register by clicking ☛HERE in 700rs free SSL unlimited email, FTP account it is best budget-friendly hosting. So, we can clearly say eHosting Server is one best hosting of Nepal.
Babal is also the best hosting provider of Nepal and I am also using the hosting of babal host. You will get the domain at the same price as others. babal host is the best website to buy Hosting and Domain at a cheap price in 1000rs unlimited hosting.
They are providing: Unlimited email accounts (1GB per mailbox), Unlimited storage, Unlimited bandwidth, 99.9% Uptime guarantee, Twice Daily offsite backup, c-Panel as standard, Free SSL certificate, Cloud Infrastructure, Host up to 3 databases, In only Nrs 1499rs/year So, we can say Babal host is one of the best hosting of Nepal
which is enough for any medium blog creator/ user no hosting company that I mentioned above provide that kind of feature in this price range customer support also good register by clicking ☛HERE
Nest Nepal
Nest Nepal isone of the best hosting provider of nepal it provide an extremely fast and wordpress optimized hosting with python, nodejs, php, and ruby for developers inside.
NestNepal Hosting provides fast and Unlimited web hosting in Nepal starting from रू 1,399/year integrated with free cPanel control panel and SSD Powered Storage. so we can consider it best hosting of nepal.
Conclusion
all the hosting providers are the same in services but some are expensive and some are cheap so it is best for users who are on a budget. By the way, Nepal has very limited hosting provide so it is difficult to choose the best hosting of Nepal.
Hope this blog helps you to choose your best hosting and you will be going to any one of them. Remember that all ranking above are in random bay be the last one is better than the first one.
Please leave a nice comment with your experience with this blog and any one of the hosting providers so it will help other visiter to find good hosting for them. by saying that I am ending my blog "Best hosting of Nepal"
THANK YOU